What a wonderful Weekend we had. The weather was absolutely beautiful~!
We did some planting in our yard and had a big get together with family and friends.
It was a perfect celebration. The kids had fun coloring eggs, and Peter Rabbit was given lots of extra greens, apples and goodies to munch on for treats. :)
Patrick and I are now married 23 years. These past 23 years have been the best years of our lives. We are very blessed for the bond that we share. I remember the first time I laid eyes on my husband to be, he was the one for me. To me, he is the greatest man in the world. Couldn't have thought of a better way to celebrate than to be with our dear friends and family yesterday. We had a barbeque out back, and there were lots of delicious desserts too. I made a bunny cake and chocolate dipped strawberries!
Looking forward to all the rest of the many years together with my dear husband Patrick. :)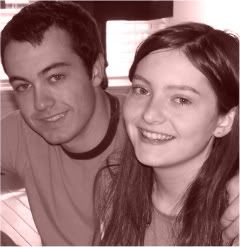 ~Our children, Patrick and Christine~
Raggedystitches,